The journey of a product from ordering all the way to you
There are few steps that need to be completed before you unpack your order with your new merch. We will show you what the whole process from order to delivery of a product looks like and how we can make it smoother for each other.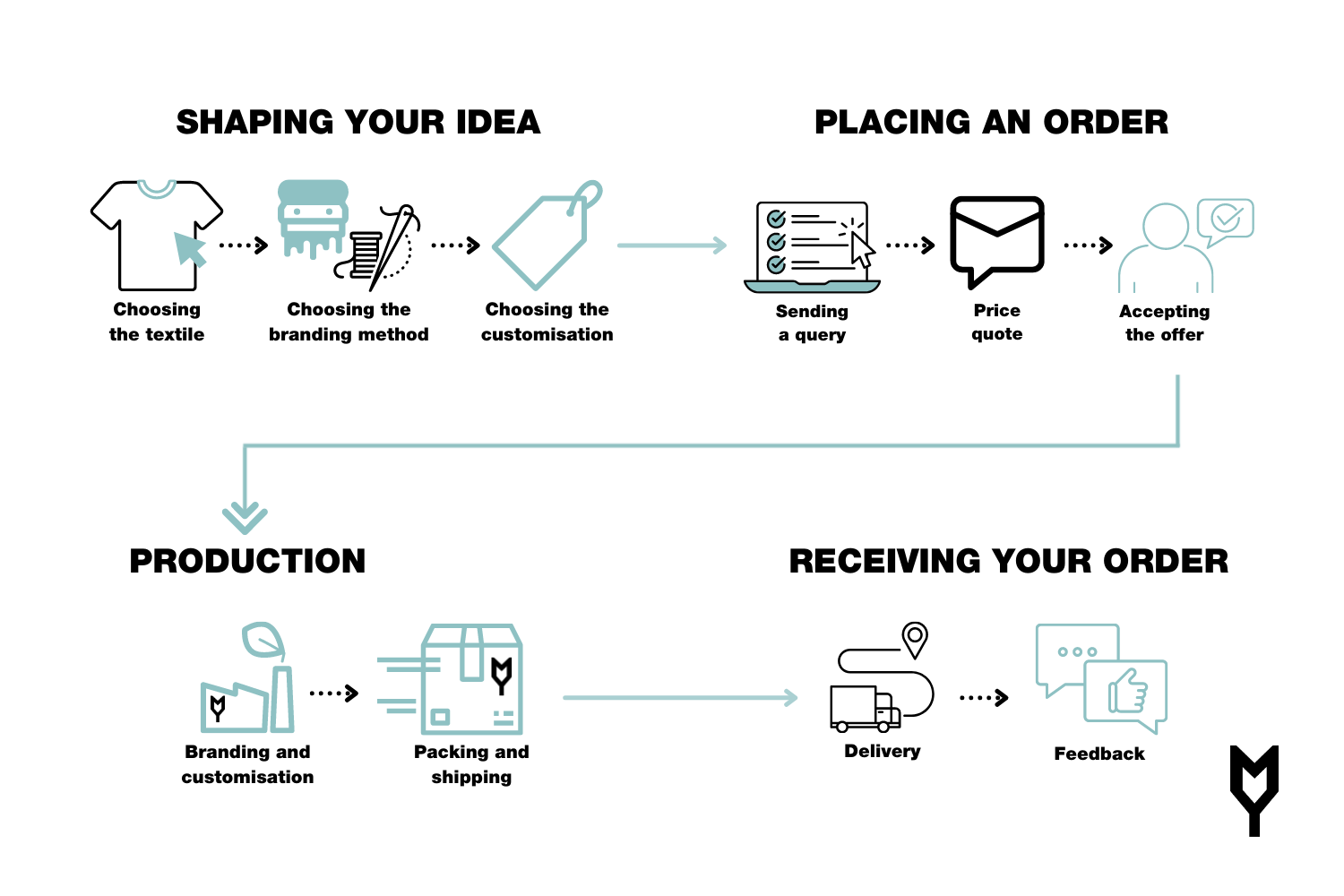 SHAPING YOUR IDEAS
Whether you are very clear about what you need to implement, or you are just looking for an inspiration and forming an idea of ​​what we can offer, you can go through and explore the following sections of our website:
Textile selection
You can choose textile at any time from our online catalogue, where you will find a large number of different types of textile and accessories - T-shirts, sweatshirts, bags, sweatpants, shorts, jackets or hats, but also pillows, towels, flip flops and much more. In the catalogue, you will find photos, colour options, material and size information for each product. If you register or log in to your MERCHYOU account, you will also see the prices and current availability of a certain product in the catalogue.
Before ordering textile, do not forget to check whether the products you have chosen are currently available. If there are zero stocks for a given type, it means that the product cannot be ordered at the moment. This may be due to the fact that the manufacturer does not have the required product manufactured. Please contact us for next restock dates of currently unavailable goods.
It is possible that the textile you are ordering is in several different warehouses. We must therefore first bring it to the central warehouse and complete the order before it is ready for dispatch, or other production operations.
Among other things, we also offer a wide range of ecologically certified textile. One of our most popular is the sustainable Stanley/Stella brand certified to GOTS, which guarantees the textile production complies with the highest environmental and ethical standards.

Not sure about the quality or cut of the selected textile? If needed, it is possible to order a sample from us, which we will be happy to send you.
Choice of branding method
We offer several types of printing, such as screen printing, digital printing or sublimation, each of which is suitable for different type of material and character of selected design. We have extensive experience with individual technologies, and therefore we will be happy to recommend you which method would be the most suitable for your design and your idea of ​​the final product.
In addition to the menu of prints, you can explore and choose one of the special effects. As the only Czech-Slovak textile printer, we also provide the possibility of GOTS certified printing.
We do not only offer printing. In our offer you can also find several variants of embroidery or embroidered patches.
Customisation
However, it does not end with choice of textile and method of branding. An additional option is the so-called customisation of textile, thanks to which your product will become unique. We offer printed, woven or satin labels, custom tags, single piece packaging and application of your EAN code. However, we recommend that you consider the choice of customisation with regards to quantity and financial possibilities you require. In case of ordering a lower number of pieces, the price per piece becomes much higher due to customisation. At the beginning, less is sometimes more.
Before sending your query, it is necessary
to have a completely clear idea of your design
so we can prepare the price quote for you.

Before ordering the textile with your branding, it is necessary to have the design ready. Both the quality of print data and the idea of design ​​size and its placement are important. You can learn how to prepare your print data in the Data file specification section. Without the design itself or a detailed idea of ​​it, we are not able to accurately price the order.
TIP: Every merch order - textile with your branding - is specific in its own way. The type of textile used, its colour, the number of pieces from one design, characteristics of the design for printing or embroidery, its size, its placement, colour, etc. Individual types of branding also carry different requirements for feasibility. For example, the minimum order quantity required for a given type of branding differs. We recommend that you take a look at the Frequently Asked Questions section, where you will find more detailed information about the requirements for a specific type of order.
ORDER
Send your query
If you have already clarified your idea, you can simply use our price quote form to send us your query, or write to us an e-mail to info@merchyou.com. If this is not the first time you have ordered something from us, feel free to contact your MERCHYOU sales representative directly.
Your request should include invoicing and contact details, graphic materials (data files) of your design for printing or embroidery, a preview of the placement of your design on the textile, specifications of the required textile (brand, type, colour, number of pieces of individual sizes, colours and types), or Pantone shade for colours in your design (if it is not chosen, or the technology does not allow to use the exact Pantone shade, we will choose the nearest colour shade according to the submitted data). Do not forget to state other requirements for customisation, method of packaging, required date of completing of your order and also the preferred method of receiving the order, including the specification of delivery data (address, name of the contact person at the recipient's address, e-mail and telephone contact for the courier).
In order to be able to continue working with graphic data files, it is necessary that they are of sufficient quality and in the correct formats. Read more about the requirements for data file specification.
Price
If all information for your query is complete, we will send you a non-binding free price quote. The price is influenced by a number of factors and depends mainly on the quantity ordered from each design, nature of the textile, branding technology chosen, your design (number of colours, its size and placement) and final adjustments (customisation, single piece packaging, etc.).
Approval of the offer
If you accept the price offer by sending a confirmation e-mail, the order is placed. Please check that you have sent us all billing and delivery details (see "Send your query" above). We will send you a proforma invoice of the entire order by e-mail.
PRODUCTION
After receiving payment to our account, the order is taken over for production. As stocks are constantly changing, and therefore changes may occur between the moment of ordering and the production process, we will first verify the stock availability of textile and prepare it for the production. We will also check the quality of data files you provide and prepare it for a specific form of textile branding. This is followed by preparation of the technology, which is very specific to each method. Likewise, the steps in the production process vary depending on the type of technology. For example, in screen printing, the preparation of screens and proper mixing of inks is an important part. After final adjustments, inspection and packaging, the textile is ready for shipment.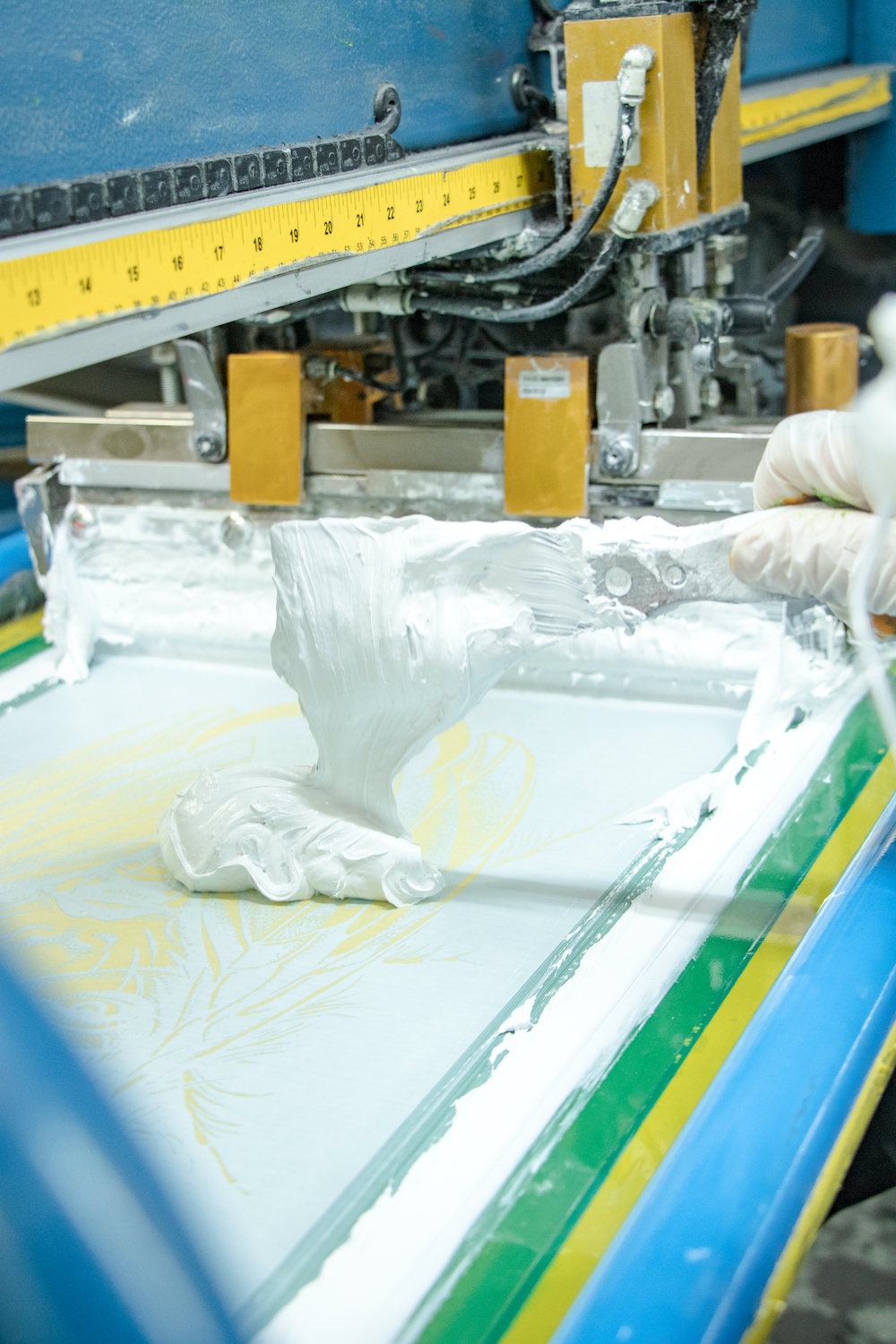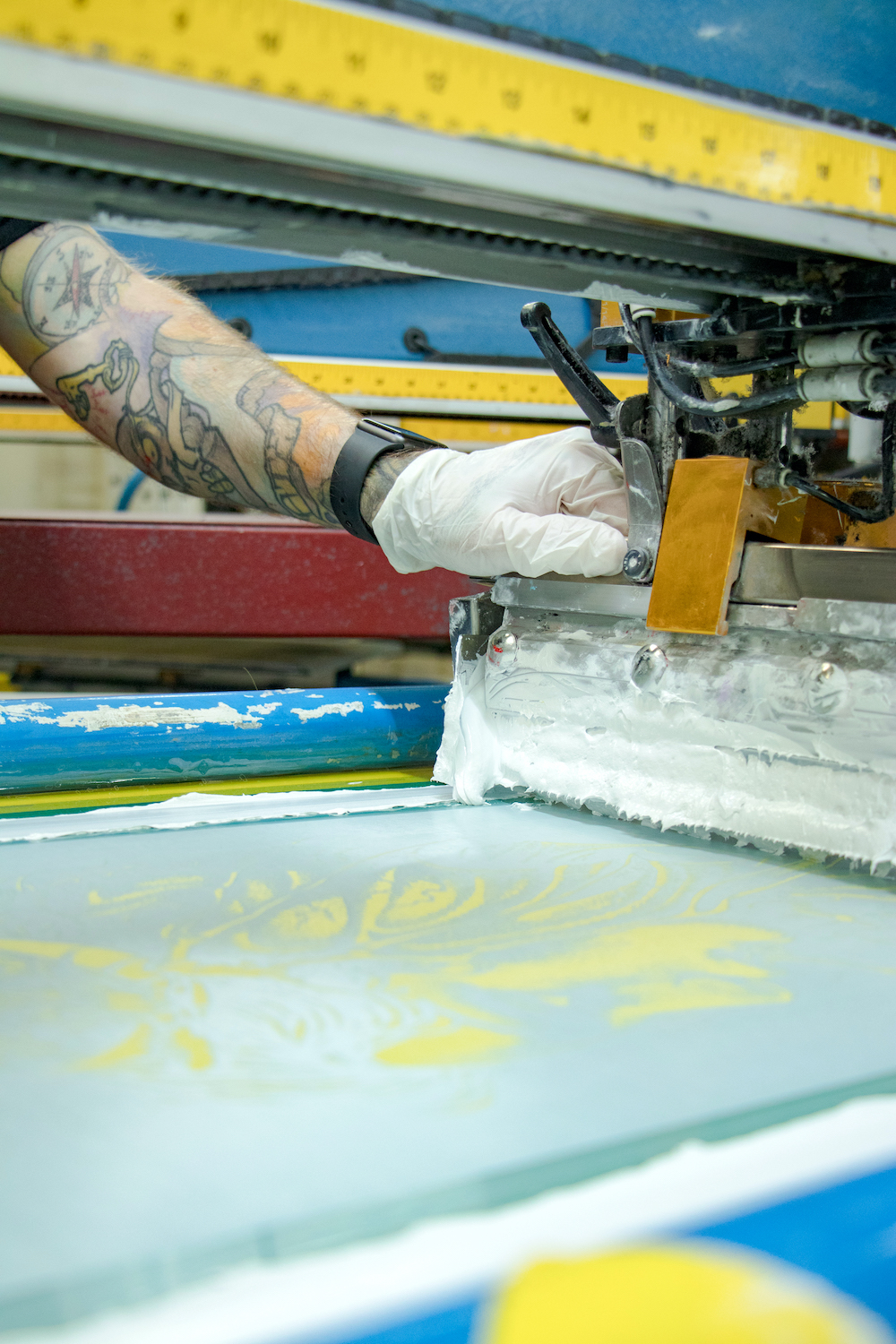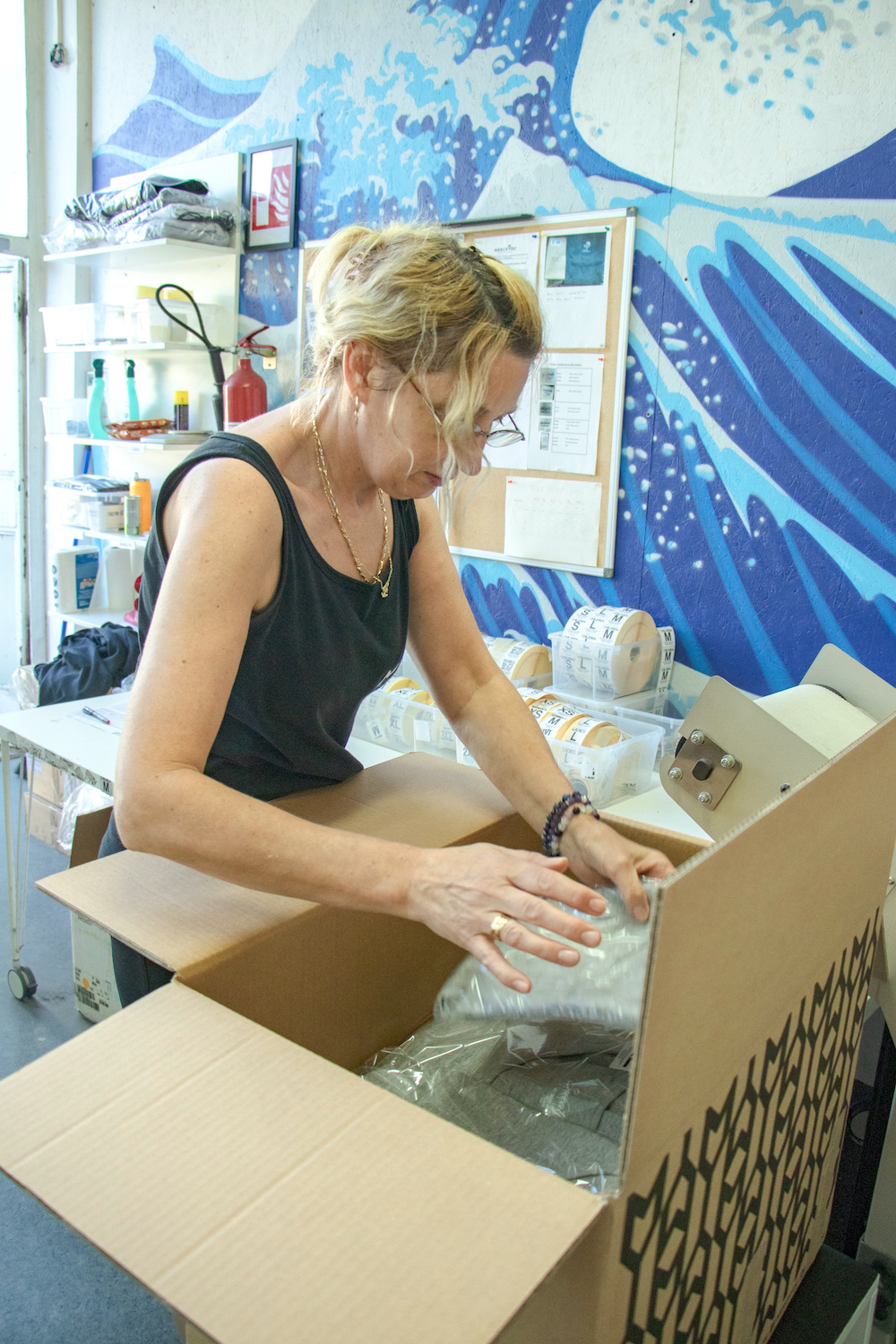 THE ROAD TO YOU
Delivery
Delivery date of an order is influenced by a number of factors and depends mainly on the nature of ordered goods, services and customisation. For example, delivery of printed textile takes approximately 10-12 business days from receiving of the advance payment. However, the actual time always depends on the current production load and may change during the year. Therefore, the approximate delivery time is specified when concluding a specific order and you will always be informed about any changes no matter the reason. If you are in a hurry to place your order, do not hesitate to contact us and if possible, we will try to find a solution.
The order will reach you according to the chosen method of receiving the goods (see "Send your query" above). If you choose the option of delivery, the messenger company will deliver it to the specified address. Shipping price quote depends on the shipping company, the volume of the shipment and the place of delivery. It is part of the price quote that you will receive before confirming your order. We will always be happy to recommend the most suitable delivery method for your order.
Feedback
Finally, the merch is in your hands! We will be very happy to see how the story of the textile continues. If you have any comments and suggestions, feel free to contact us and e-mail to feedback@merchyou.com. We are constantly trying to improve, and any feedback will be much appreciated and will help us a lot.
Do not hesitate to share your new merch with us on social media with the @merchyou tag in a post or in your stories!
If our summary was not enough and you enjoy paragraphs and clearly written rules, take a look at our General Terms and Conditions.
We look forward to working with you! 😉