6 creative ways to upcycle old textile
What to do with a t-shirt that you no longer wear? We have prepared some inspiring tips with instructions on how you can creatively upcycle an old textile and give it a new life!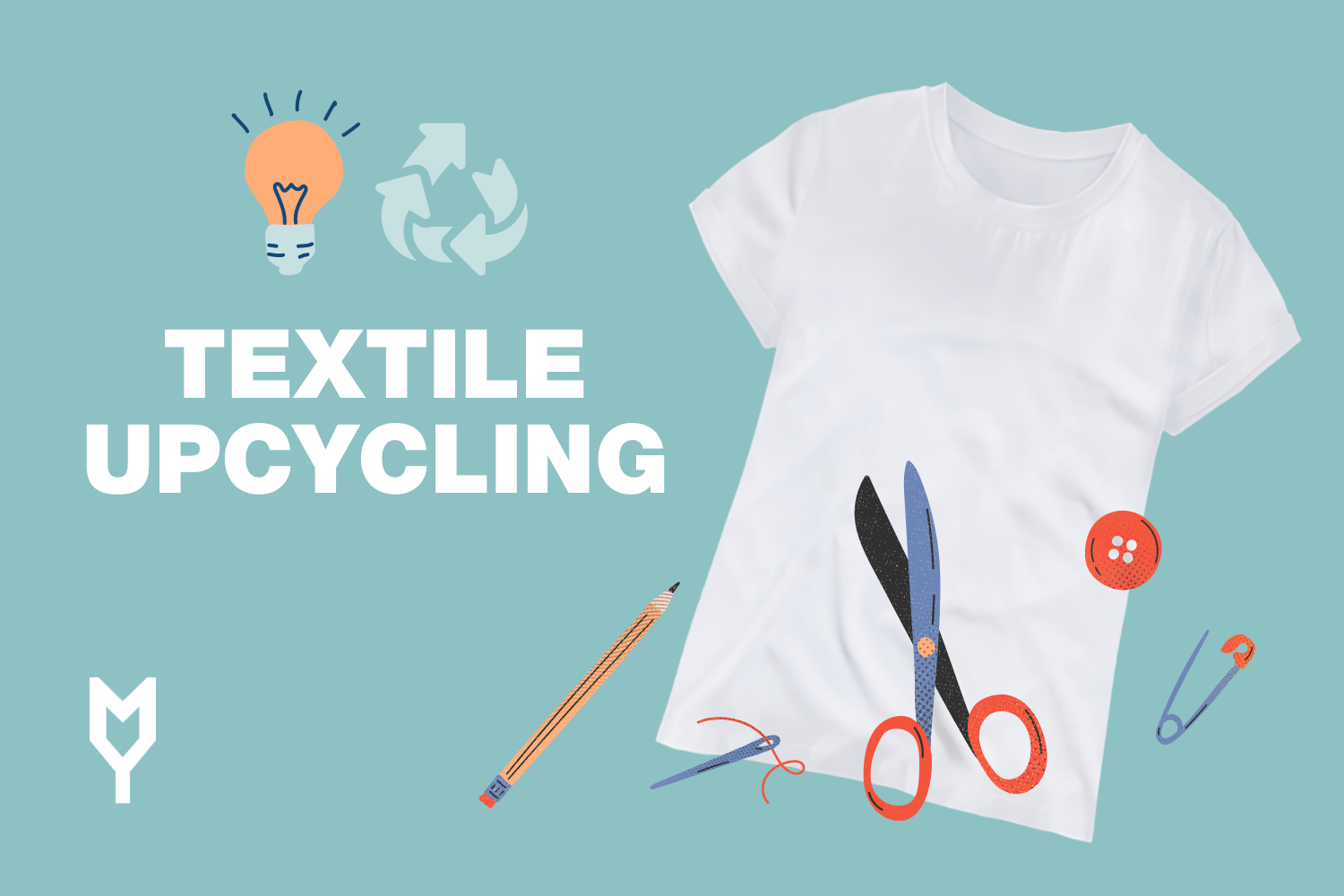 Textile that has reached its end of life do not have to end up in the waste immediately but can also find another use. Read our article What to do with old textile? to learn about options for giving textile a second chance. One of these ways is upcycling - the transformation of an old and unnecessary product or material into a new one that can be reused in accordance with circularity.
Sometimes discarded clothes don't even have to have a specific defect, but for example, they no longer fit us in size, they don't have an adequate use in our wardrobe, or they simply lost their charm. However, it is possible to make countless practical and decorative items from such textile. Get inspired by our upcycling tips and discover your creative spirit!
The variant of creative making is marked with a sewing machine symbol, in case you have the opportunity to use it.
UPCYCLING TIPS
1. Neckerchief
A t-shirt or a tank top can easily be made into a multifunctional tunnel scarf that can be used as a classic scarf around the neck, over the head as a protection from the sun, over the chin and mouth, to tie hair and for other purposes. No need to sew, just (1) cut out the bottom part of the T-shirt and (2) fold the edges naturally and tuck them inside.

2. Shopping bag
Make a bag in Boho style without sewing. (1) Cut off the sleeves from the t-shirt, widen the original neck hole and cut off the hem at the bottom of the t-shirt. In the case of a tank top with a sufficiently large neckline, it is enough to cut off only the bottom hem. (2) Next, cut the fringes in the lower part. (3) And finally, tie the opposite tassels together with at least two knots to form a solid bottom of the bag.


Source: Blogilates
Similarly, it is possible to create a mesh bag. (1) This time cut off the entire upper part of the T-shirt in a round shape and cut out a hole in its lower part that will serve as ears. (2) Turn inside out and sew the curved part. (3) Finally, cut holes (approx. 2-3 cm wide) on the sides of the bag.
If you have the opportunity, it is advisable to use a sewing machine for step (2) to create a stronger and less time-consuming stitching of the bottom part of the bag.


Source: Deliacreates
3. Bracelets or headbands
You can easily make headbands or bracelets of various styles from discarded textile.
Simple style: (1) Cut two thicker strips of fabric from the textile, (2) cross weave them and (3) link them together according to your liking and elasticity of the fabric, e.g. sew or leave it free for tying, etc.
Braided style: (1) Prepare several fabric strips, (2) put them together in a bundle and make a knot at one end, divide the strips into three equal parts, braid them and make a knot again at the end. (3) Choose the connection of both ends according to the elasticity of the fabric. It is good to try whether the bracelet can be pulled over the hand and choose the method of connecting both ends accordingly - sew / tie / connect with rubber / create an eyelet from the ends of the strips and create a larger knot at the other end or add a button / glue on the magnets.
Knot style: (1) Prepare several fabric strips, (2) divide them into two halves, for example three each, and weave them into a knot, see the pic below, (3) finally connect the bundles of stripes in a way according to the purpose of wearing and your liking.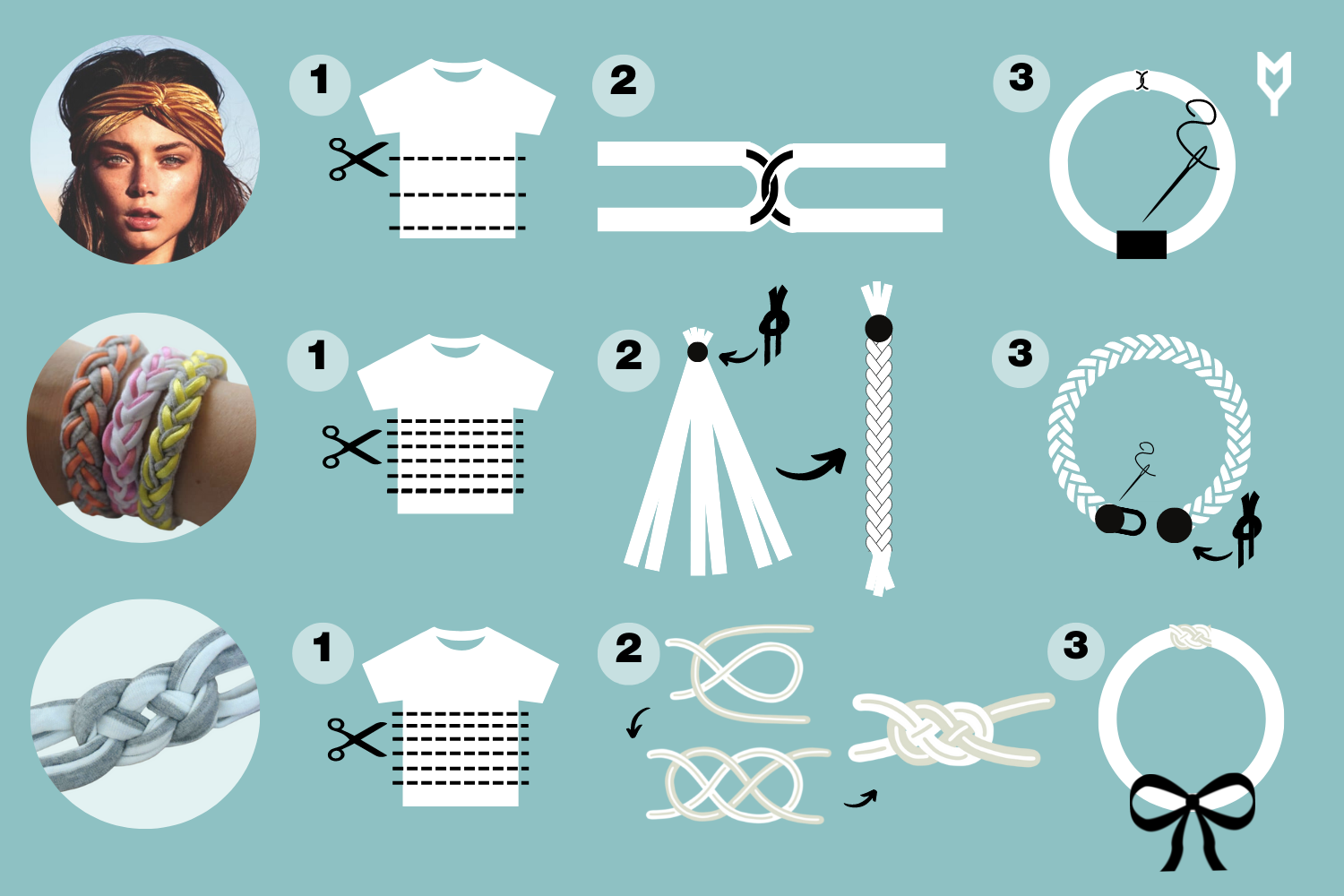 Sources: Helloglow I Domesticingenuity
4. Rug
A coloured textile is ideal for the DIY rug. You can colour match or create a playful transition of different colours.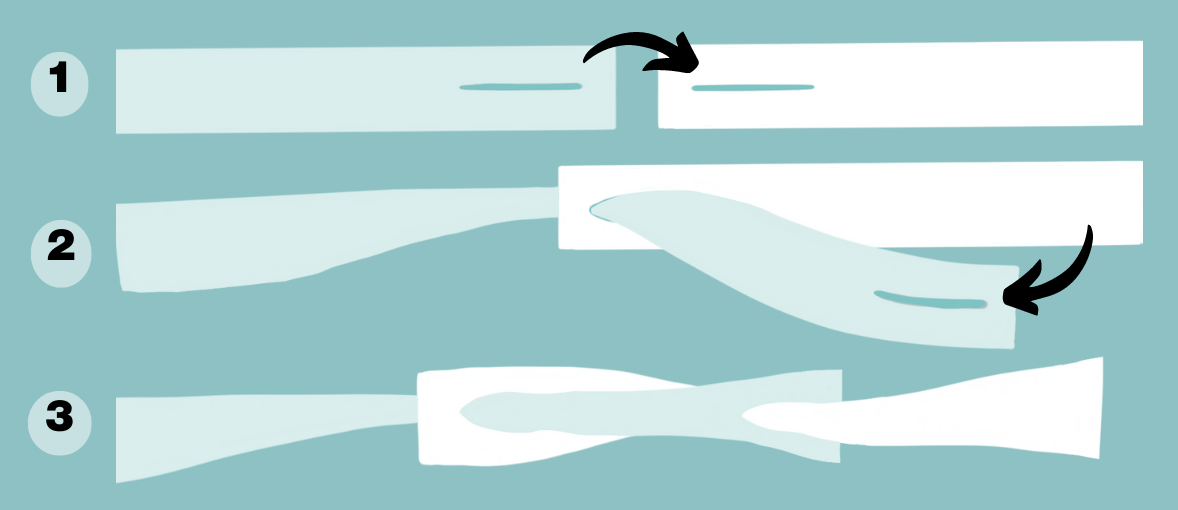 TIP for getting started: Making a rug requires as long strips of fabric as possible. When you need to extend a strip of fabric, you can either tie another piece of fabric with a classic knot or choose a less visible connection (see pic on the left).
Square rug made of braided fabric:
(1) Cut the longest possible strips of fabric from the textile. (2) Put three strips (or several that can be divided into three parts) together in a bundle and either make a knot at the end or sew them together easily with a thread. Next, braid them together like a classic braid, which, if necessary, can be extended by connecting other strips of fabric (see TIP above). In this way, create several more braids from the fabric, at the end of which make a classic knot. (3) Finally, place the braids lengthwise next to each other and sew them together at the edges with a needle and thread. The final size of the carpet is up to you :-)
Similarly, it is possible to make a round-shaped carpet from one long fabric braid, which you can spiral and sew together.


Source: Hometalk
Round woven carpet in a frame:
(1) Firstly, prepare a tightened "net" for weaving. Turn strips of fabric or thicker twine into a star shape on a round frame (for example, a hoop), or prepare a hard round cardboard in the desired size of the rug and make small slits at its ends, where the ends of the fabric can be held in place. Depending on the material, you can use classic knots, nails, strong clips, safety pins, etc. to secure the edges of the selected "frame".
(2) After the "net" is ready, take a new strip of fabric and twist the ends to weave the "net" (you can weave over and under every or every two stretched strings). If necessary, extend it by connecting other strips of fabric (see TIP above). Proceed in this way until you weave the rug to the desired size. (2b) If the stretched "net" becomes too thin during knitting, simply add new strings/strips of fabric into it.
(3) Finally, cut off the stretched strips or strings with a sufficient reserve. You can either tie two or three together and leave them as tassels, or bend them to the bottom of the rug and fasten them with a needle and thread.
Similarly, it is possible to make a square-shaped carpet with the help of a square frame and horizontal weaving.


Zdroj: apieceofrainbow.com
5. Scarf or toy for your pet
Let your four-legged friend, be it a dog, a cat, a ferret or some other animal, wear your favorite t-shirt or tank top out. (1) Cut out the best square shape of the fabric, fold it diagonally and (2) tie it around the neck by the farthest connected ends. However, do not forget to respect the comfort of your pet. If it seems that it does not like wearing a scarf for any reason, then the textile will definitely find another, more suitable use.
If you have the opportunity to use a sewing machine, you can create a nice seam on the hem.

You can also easily make a toy for your dog. The procedure is similar to the braided bracelet (see above): Prepare thicker strips of fabric from T-shirt or sweatpants (the more strips we use, the more durable the toy will be), put them together and tie a knot at one end of the bundle, then divide them into three equal parts and braid. At the end tie a big knot again and that's it! Don't be afraid to use bold colours to make the toy easily visible.
6. Home slippers
Surprise your guests with upcycled slippers!
(1) Cut strips of fabric (at least 5 cm wide) from an old T-shirt or ideally sweatpants. 2-4 wider stripes are enough for long sweatpants with a higher weight.
(2) In order for the slippers to hold their shape, you will need a stronger sole (preferably from a material that can be easily stitched by hand, for example from a coconut mat). When cutting out the shape of the sole, it is advisable to put your full weight on the material so that the outline of the feet corresponds to the actual size while walking.
Next, take a strip of fabric, gradually wrap it around, attach it twisted around the perimeter of the sole (you can use pins to help) and secure it to the sole with a needle and thread. Proceed with placing the twisted fabric and sewing in a spiral direction up to the middle of the slipper.
(3) To create the upper part of the slippers, prepare two strips of fabric (at least 10 cm wide), interweave them and adjust the length according to your feet.
(4) Attach the ends with a needle and thread to the edge of the sole. And it's done!


Source: Youtube
Unleash your creativity
What else can be made from T-shirt or sweatpants? Just look around and you will find that old textile can still find many uses. Whether practical in the form of household bags, or decorative such as a pillowcase with your favourite print that you want to keep as a keepsake. A lot of other interesting inspiration can be found online, but we believe that you will come up with even more creative ideas yourself!
If you have a more challenging idea that you don't dare to try yourself, you can use the services of sewing and upcycling workshops, where you just need to bring the material and agree on what you would like them to make.
We wish you successful upcycling!