Is your merch really GOTS?
Find out how to recognize a valid GOTS certificate and what to look out for when checking it. Let's remember what the GOTS certification guarantees and what conditions must the printed product meet in order to be fully certified.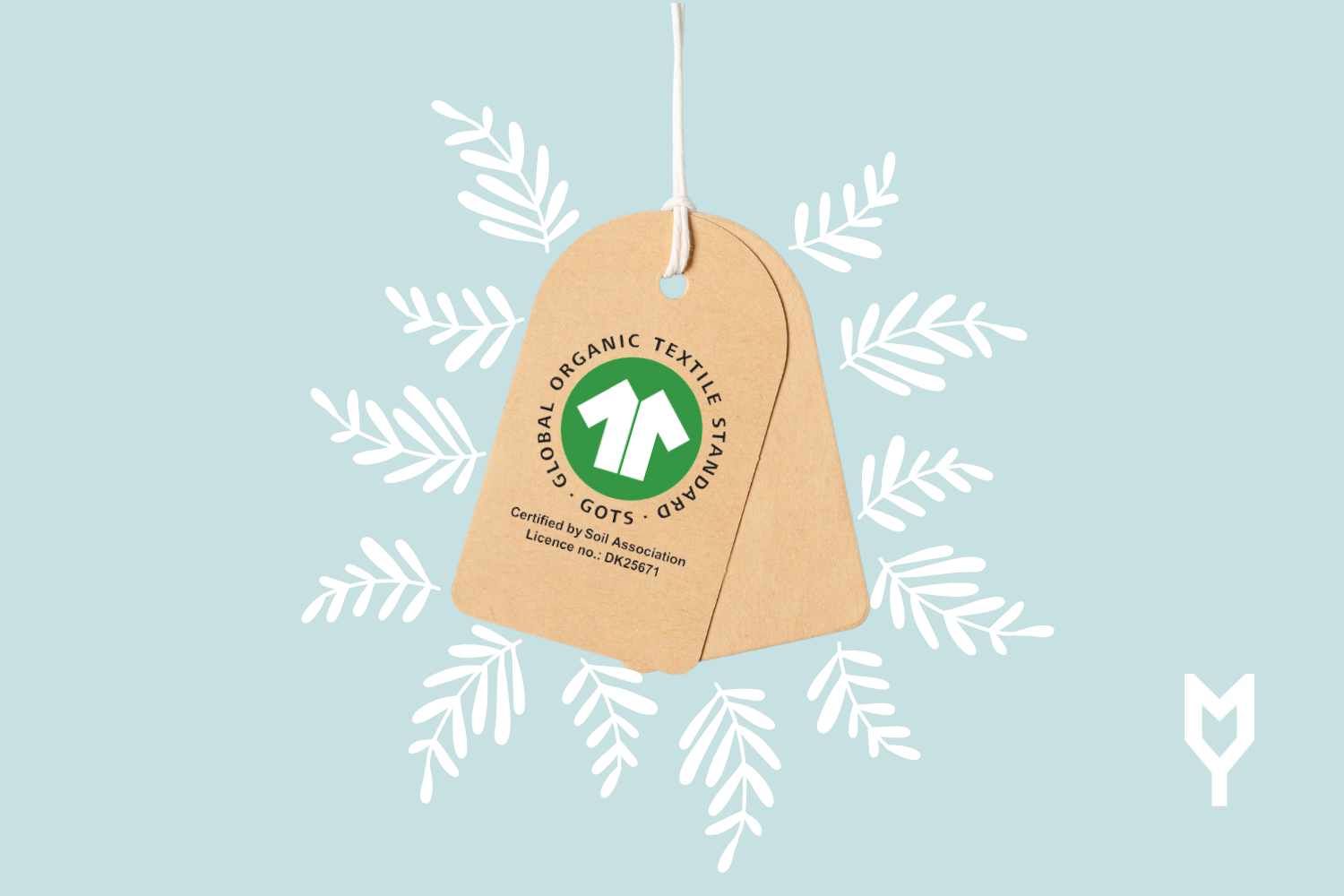 Certificates are a great tool for recognizing that a given product really meets our requirements, whether for quality, safety towards our health, or from an ecological or ethical point of view. However, there is a large number of certificates and each of them focuses on different areas with different demands.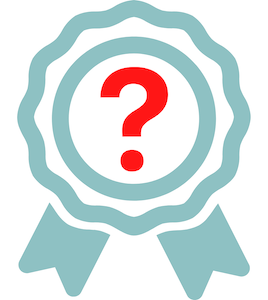 Misleading or incorrect product labeling is a common problem with sustainable certificates. Sometimes a product is incorrectly marked as certified even though it does not meet all requirements. At other times, you may encounter labels that are incomplete, such as missing important information to verify that the certificate is valid. Together we will learn what the correct marking of a GOTS-certified product should look like.
GOTS, or Global Organic Textile Standard, is one of the strictest sustainable certifications at the moment.
How to recognize a GOTS certified product?
The GOTS certified product is correctly marked on the label or sign with the following elements:

1) The GOTS logo
2) The label grade - "Organic" or "Made with x % organic"
3) The reference to the Certification Body
4) The License number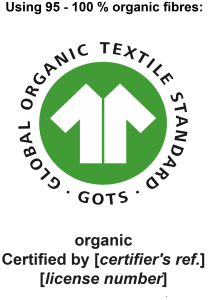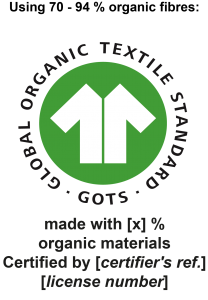 Source: global-standard.org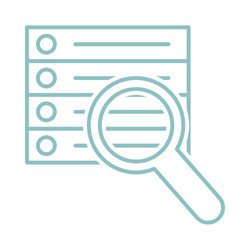 You can easily verify the validity of the certificate at any time online in the GOTS database, where you enter the manufacturer's license number listed on the product. It should always be the number of the company which production plant processed the textile product last, i.e. for printed textile, it is a textile printer.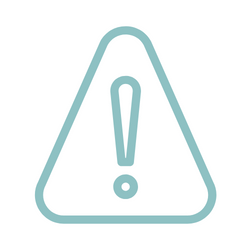 In the database you can always see what the manufacturer is certified to. If you verify the license number of a printed T-shirt and you do not see the "printing" category in the company's entry, the printed T-shirt is not GOTS certified and therefore the GOTS logo on this final product is misleading and its misleading use may result in a fine from GOTS.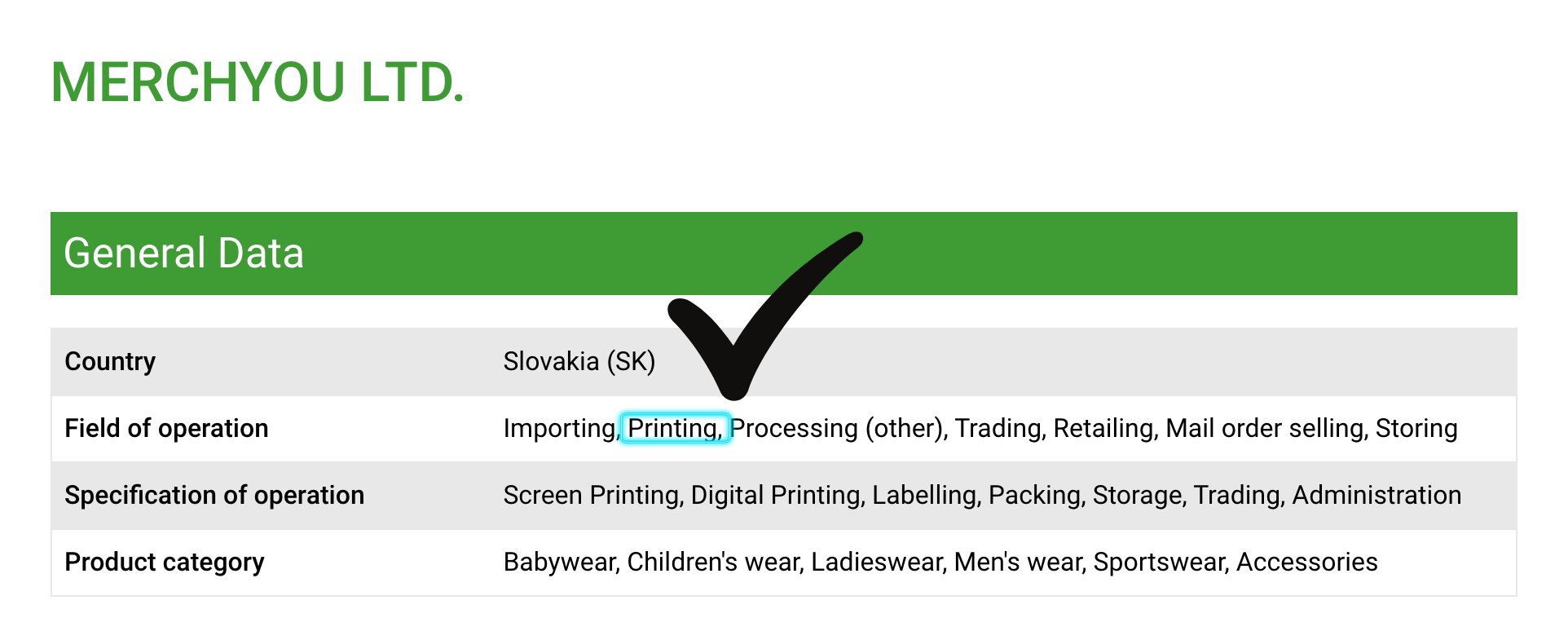 Source: An example of a GOTS certified printer in the GOTS database.
If, for example, the original GOTS-certified textile is not printed at a GOTS-certified printing company, such as MERCHYOU, it must not boast with the original GOTS logo of the textile manufacturer. Such textile was "degraded" by conventional printing, and we can no longer speak of the final product as GOTS certified.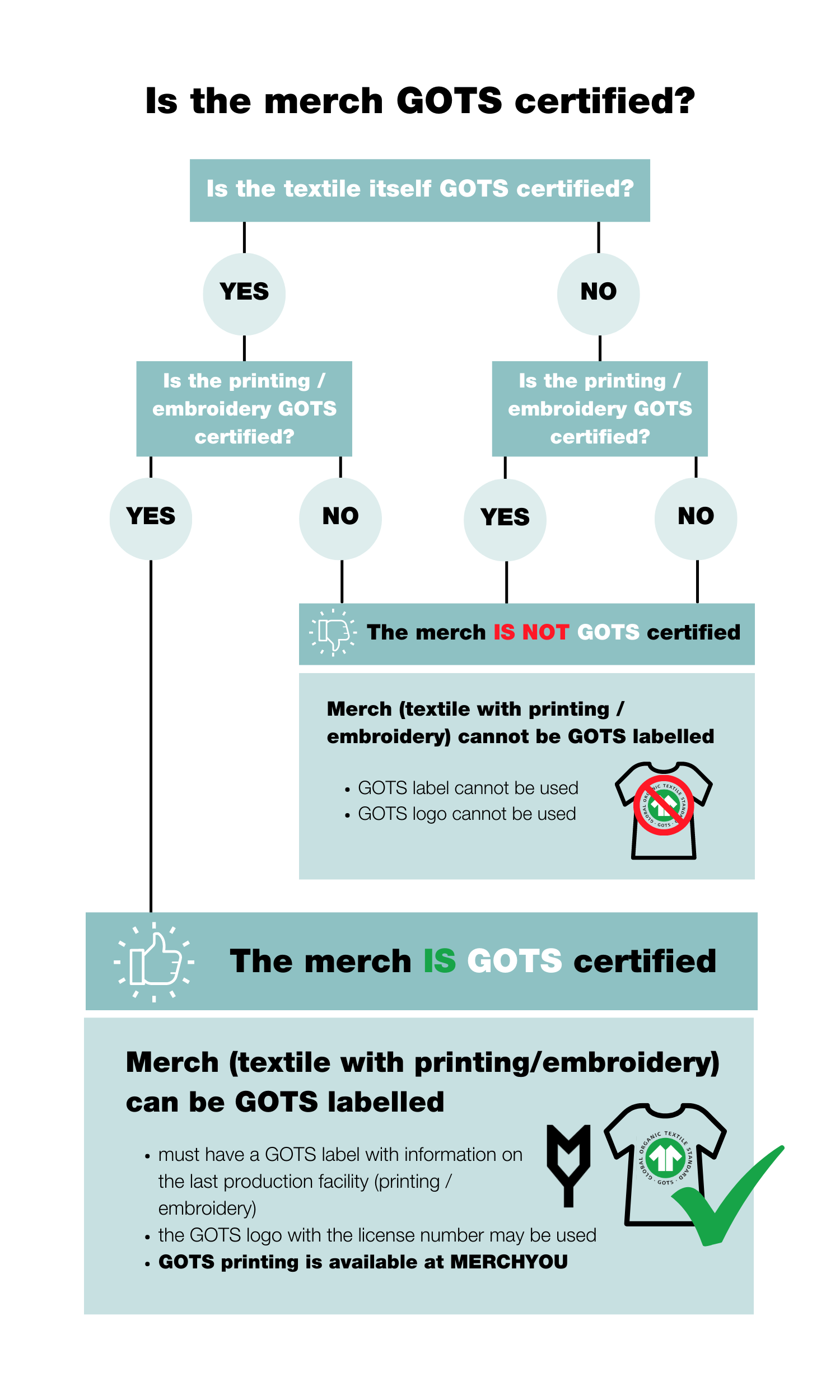 You can read more detailed information and an overview of when a manufacturer or textile printer can label the final product as GOTS certified here.
What does GOTS guarantee and how does it differ from other certifications?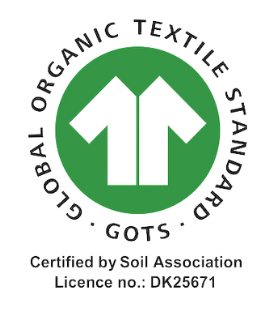 GOTS sets and controls the fulfilment of high environmental and ethical standards for textile throughout the entire production process - i.e. from the cultivation of raw materials, through processing, to final customisation, including printing. In summary, it monitors the following areas:
Share of organic textile fibres - the standard has two label grades:
a) Textile made of at least 95% organic fibres (the remaining 5% or less may be other GOTS approved additional fibres of inorganic origin) - labelled as "Organic" (organic material).
b) Textile made of at least 70% organic fibres (the remaining 30% or less may be other GOTS approved additional fibres of inorganic origin) - labelled as "Made with x% organic".
Sustainable production processes during production (cultivation of raw materials, textile processing and printing) - The standard strives to minimise waste, maximise production efficiency, maintain quality, and reduce carbon footprint throughout the production process.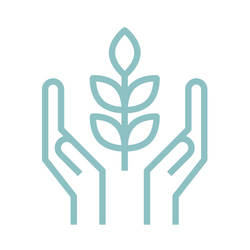 Responsible use of natural resources - Careful handling of water, soil and energy.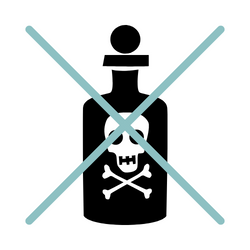 Prohibition of the use of chemicals and hazardous substances - Whether in form of pesticides during cultivation or toxic paints during subsequent processing. Every substance used must be tested for toxicity.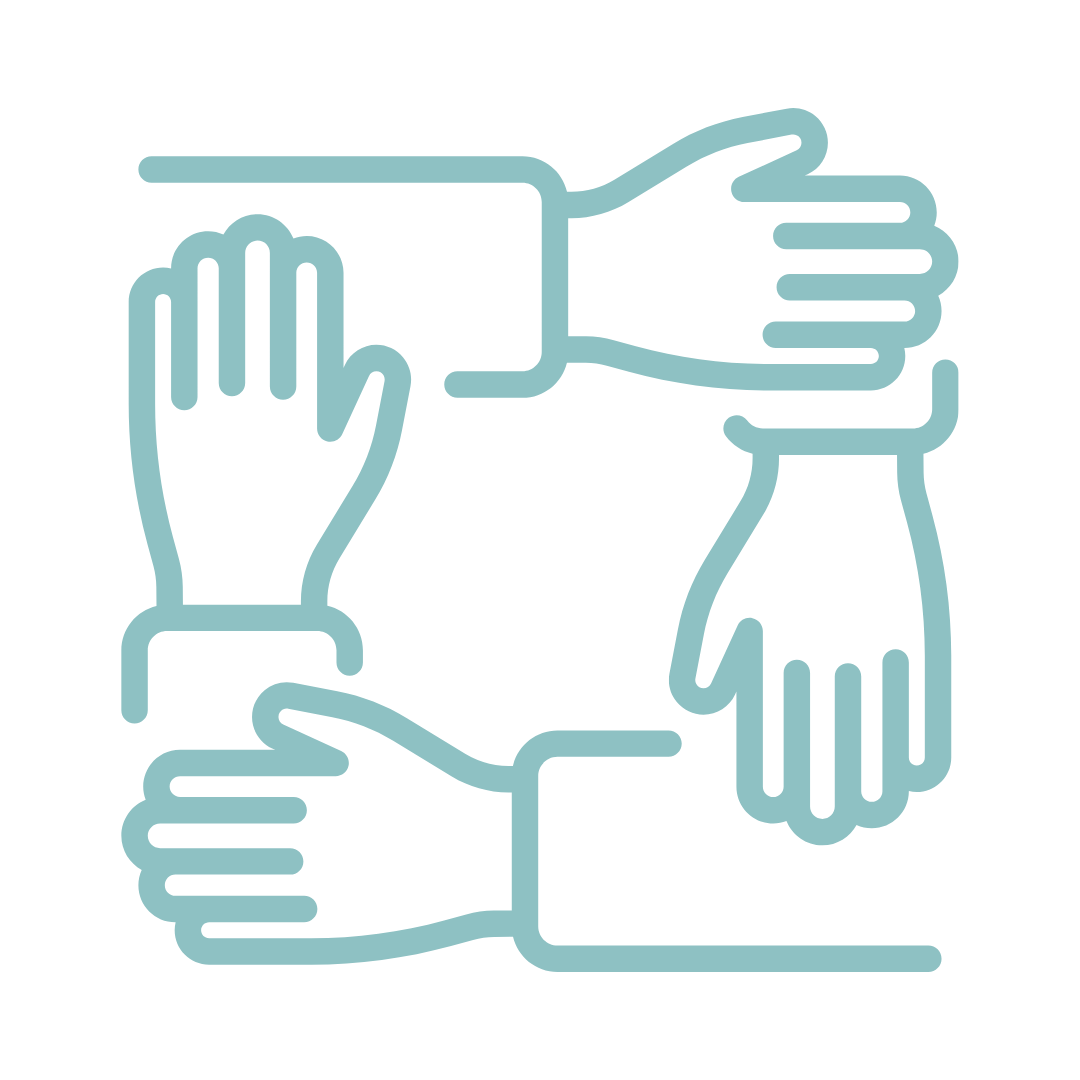 Ethical working conditions - Working evnironment safety, fair and decent wages for production workers and farmers.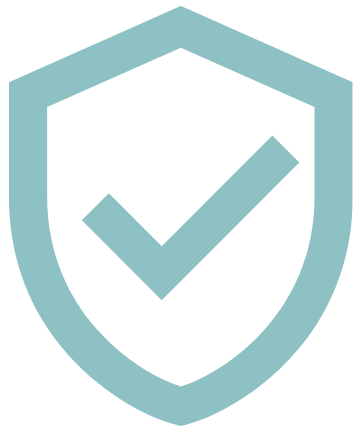 In order to obtain and maintain a GOTS certificate, manufacturers are regularly inspected by independent certification bodies and must meet all requirements of the standard. However, GOTS requirements for issuing and maintaining a certificate are constantly tightening. In 2021, the level rose again to version 6.0. You can read more about both the standard and newer criteria in our article GOTS version 6.0.
GOTS at MERCHYOU
As for MERCHYOU, we are one of the few GOTS certified textile printers in Europe. We offer both GOTS certified textile and GOTS printing, which guarantees that all our production processes and procedures are regularly inspected and meet the strictest environmental and ethical requirements of GOTS. With us, you can get a completely GOTS certified product.

Find out what sustainable steps we take in our production.
Brands from our catalogue with GOTS certified products
Stanley/Stella • Malfini • Earth Positive • Russell Pure Organic • Neutral
Continental Clothing Company • Fair Share • A&R
Are you interested in what other certificates you can find among the brands in our online catalogue and what they guarantee? Different sustainability certifications often monitor only some production areas or set lower demands. Take a look at our article Textile Certificates and find out more.
Thanks to sustainable certifications, such as GOTS, we can recognize and choose products that have been manufactured with care for our health and the natural environment way more easily. Thank you for choosing responsibly. 💚
Sources:
GOTS
GOTS version 6.0
How to Identify GOTS Goods