GOTS version 6.0
There is always room for improvement in the area of ​​sustainability. And that's why GOTS, one of the most important certifications in the field of sustainable textiles, has recently moved to level 6.0. The new version includes tightening of existing requirements as well as adding completely new requirements for ecological and ethical aspects of textile production. In the article, we will introduce primary GOTS criteria and what new additions has come along with the new version.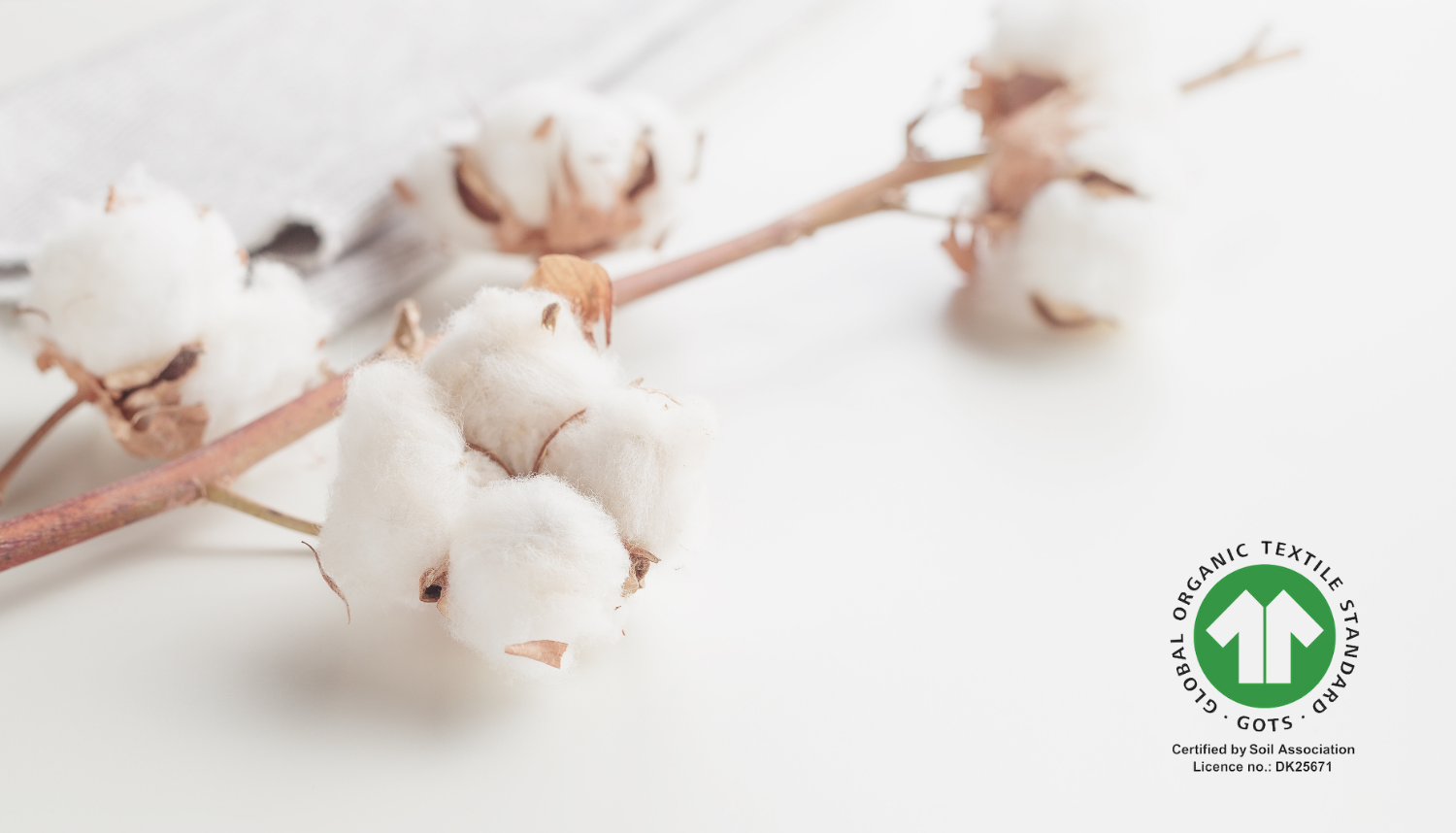 GOTS or Global Organic Textile Standard is currently the world's most respected certification for textile made of organic materials. GOTS monitors and ensures high environmental and social standards throughout the entire production process. From cultivation, processing to product finalisation. At the same time, it strives for transparency at all stages of the production process.
Subjects certified to GOTS are not only regularly inspected, but in order to remain certified, they must also keep up with the ever-tightening demands for sustainable production practices. Likewise, we at MERCHYOU must constantly improve our production processes and adapt to the growing demands of sustainability. Thanks to all this, GOTS is a reliable indicator of high quality, and above all kindness towards nature and people.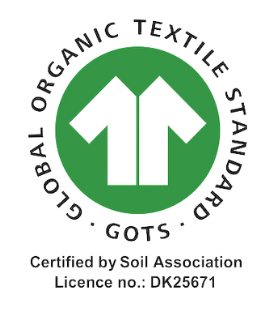 ELEMENTARY GOTS STANDARDS
General requirements of GOTS relate primarily to the content of certified organic fibers, as well as the ban on the use of any toxic or harmful chemicals throughout the entire production process. The criteria include adherence to sustainable manufacturing practices, particularly to management of natural resources and waste. Demands on working conditions, fair wages, employee care and other social aspects are also integral parts of the standard. More specifically, the primary GOTS standards include:
Proportion of organic fibres
The standard is divided into two label-grades, which differ by the minimum percentage of organic material in the certified product.
If the textile is made of at least 95% organic fibres (the remaining 5% or less may be inorganic natural or synthetic fibres), it is marked on the tag as "Organic".
If the product is made of at least 70% organic fibres (the remaining 30% or less may be inorganic substances, but not more than 10% synthetic), it is marked on the tag as "Made with x% organic".
In addition to given label grade, the GOTS label must include the reference to the certification body, and particularly the license number of the specific manufacturer, the validity of which you, as a customer, can always verify on the GOTS website.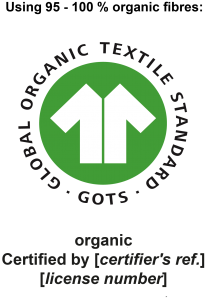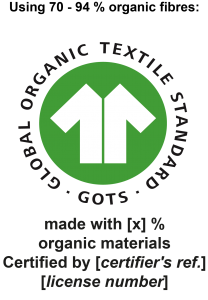 Source: www.global-standard.org
Prohibited substances
All chemicals used in both farming and processing must be tested for toxicity. The textile must be biodegradable.
It is forbidden to use hazardous substances, such as:
• Heavy and toxic metals
• Solvents
• GMOs (genetically modified organisms)
• Formaldehydes
• And other carcinogenic and synthetic substances (more here)
Only oxygen-based bleaches may be used. In wet production, the manufacturer must keep detailed records of the use of all chemicals. Therefore, you will not find any production aids with these hazardous substances in our printing facilities. All adhesives, packaging materials, inks and others comply with GOTS standards.
Sustainable steps in production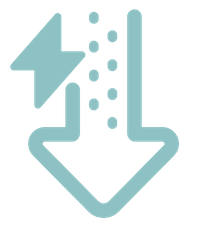 In addition to banned chemicals, more environmental standards must be observed in production. It is necessary to monitor data on energy and water consumption and waste produced. Manufacturers should purposefully manage the consumption of resources and waste and strive to reduce them. Wastewater must pass through a treatment plant before leaving production.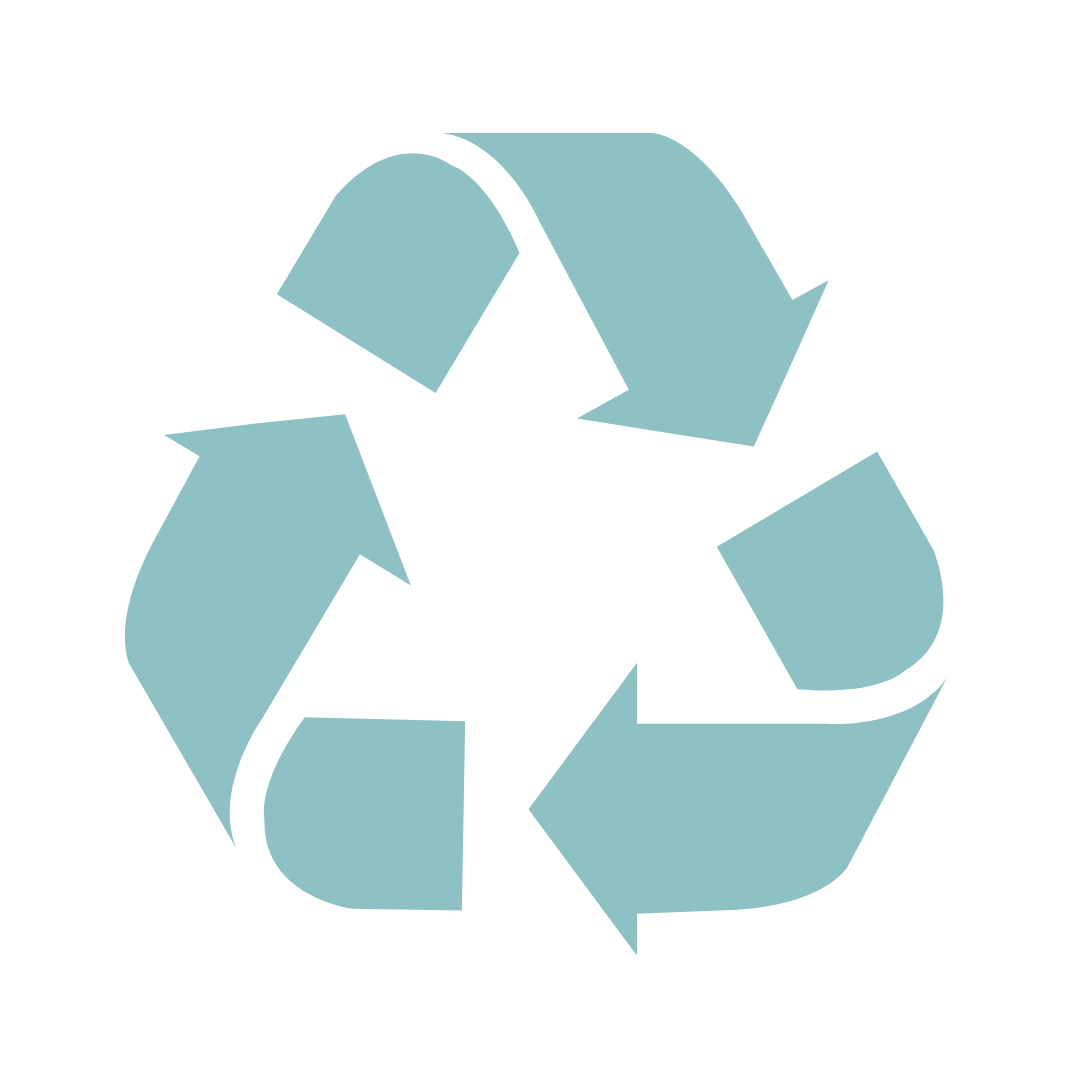 Organic fibre processing processes must be kept separate from conventional ones in production, mainly because organic fibres must not be contaminated with prohibited substances at any stage of the production. Products are also tested for possible traces of undesirable substances caused by unavoidable pollution and their limit rate is monitored. Packaging material must be made of recycled materials and must not contain certain hazardous substances, such as PVC.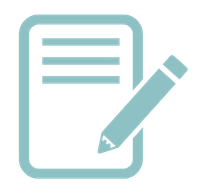 Manufacturers are obliged to monitor and record in detail all events in all parts of their production process. This information includes, for example: the nature of raw material, any steps and methods of processing or handling natural resources and their state at the time of production leaving.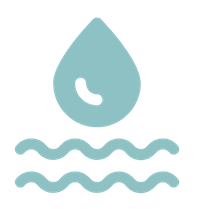 We also take all these sustainable steps at our MERCHYOU printing facilities. We monitor and keep records of our consumption, while constantly innovating and looking for new solutions to reduce it. We comply with all process criteria. Our packaging is recycled and biodegradable, we double filter the water before discharging it into the waste, we reuse some auxiliary materials (eg. cleaning cloths), we recycle the waste and much more.
Social criteria
Elementary social and ethical requirements for granting GOTS certification include: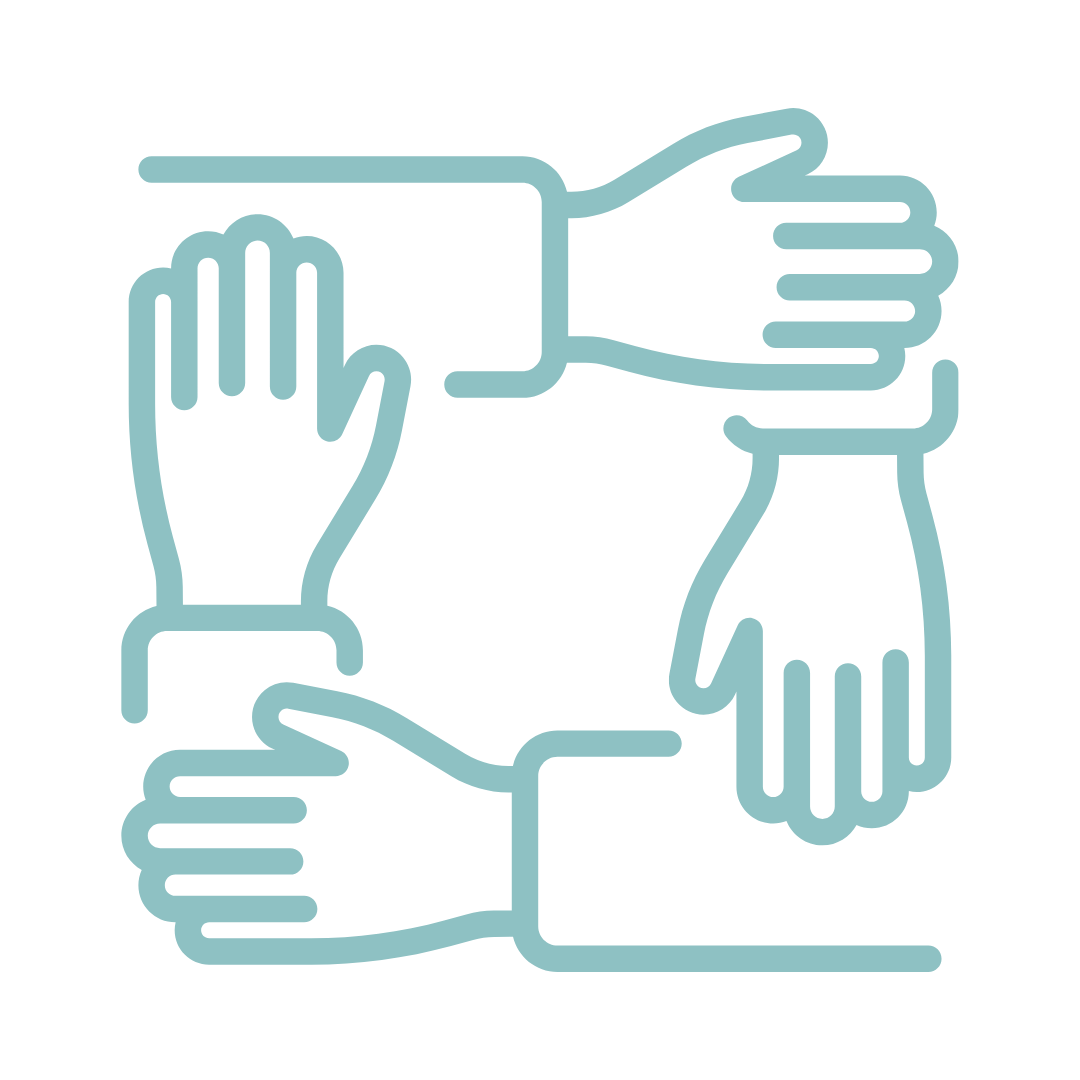 • Prohibition of child labour
• Employment is freely chosen
• Freedom of association and collective bargaining
• A safe and healthy working environment
• No harassment, discrimination and violence
• Adequate working hours
• Fair and living wage (eg. overtime is valued at a higher rate)
As with sustainable production steps, producers throughout the supply chain, and therefore us, must have a social responsibility policy in place to ensure that these criteria are met. GOTS also requires ethical business behaviour. At MERCHYOU, we care about our employees, which is why compliance with GOTS social requirements is a matter of course for us.
NEW GOTS 6.0 REQUIREMENTS
The criteria and requirements for GOTS certification are gradually being tightened. From March 1, 2021, the new GOTS version 6.0 standard has come into force. Elementary criteria such as organic fibre content, ban on hazardous chemicals or social standards remain fundamentally unchanged. However, some individual aspects are being tightened up or new, more sustainable methods and procedures for the production and processing of organic textile have been established, including for printing at MERCHYOU.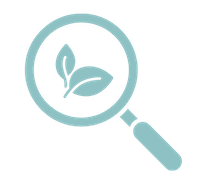 • New product quality requirements have become mandatory. Technical parameters of colour fastness and preservation of textile dimensions and shape are required.
• Version 6.0 includes a new testing protocol for cotton screening that checks the textile for GMOs.
• Requirements to prevent the release of synthetic fibres in socks, leggings and sportswear have been tightened.
• New criteria are also introduced for textile that comes into contact with food, for example for clothing used in gastronomy.
Social requirements have also been expanded. Manufacturers with GOTS certification have to recalculate the difference between the wage actually paid and the wage ensuring the living minimum. New guidelines are also added regarding the ethical business behaviour.
The new version 6.0 was compiled on the basis of consultations with experts, textile manufacturers and customers. It will encourage producers and other textile processors, including us, to be more sustainable again. The transitional period for adapting to the new requirements is set at 1 year. All criteria of the new level of GOTS and other more detailed information can be found here.
As the only textile printer in Slovakia and Czech Republic we provide the possibility of GOTS certified printing. We are also implementing stricter standards in order to keep pace with current improvements and to be as sustainable as possible. At MERCHYOU, we believe that there is always room for improvement in the field of sustainability!
Wondering what other sustainable steps we are taking at MERCHYOU?
Take a look the article Our Sustainable Production.
Thanks to the GOTS certificate we can more easily identify and choose products that have been produced with a much lower ecological footprint and at the same time are more friendly to our health.
Let's choose textile more responsibly ♥
Sources:
• GLOBAL ORGANIC TEXTILE STANDARD (GOTS) VERSION 6.0
• PRESS RELEASE GOTS VERSION 6.0 RELEASED
• How to Identify GOTS Goods