Are you familiar with the textile manufacturing processes? Part 1: COTTON
Are you interested in how textile materials are produced? We have prepared a series of articles for you, where we will gradually introduce individual types of fabrics. The first part is dedicated to one of the most important natural sources of textile materials - cotton. Cotton has a myriad of benefits, but also certain pitfalls in terms of sustainability of its production. However, if handled properly, it can be a very valuable and irreplaceable material in many respects.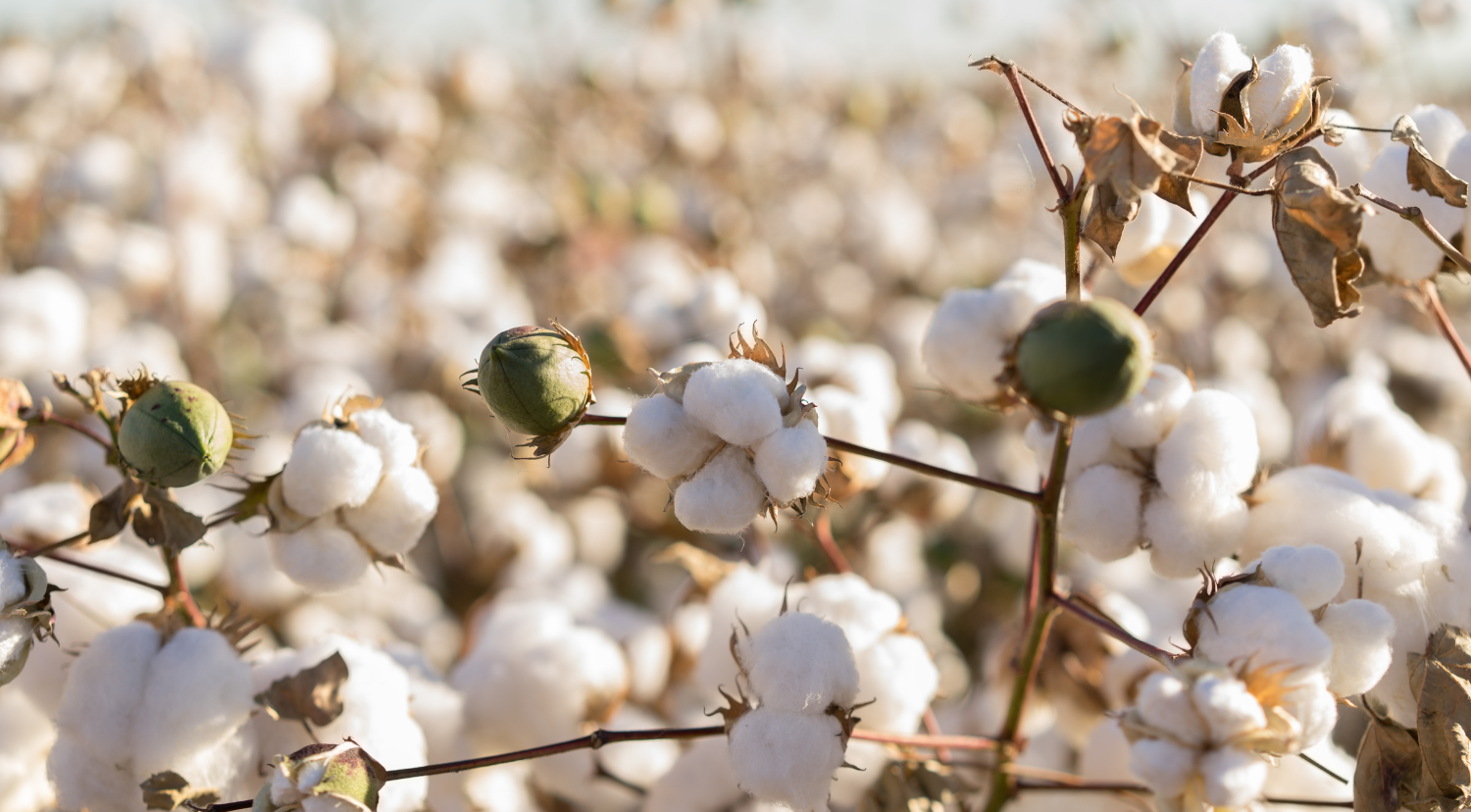 Cotton is one of the most important materials in fashion industry. Although it was once one of the most commonly used fibres in textile production, today it represents only about a quarter of the world's textile fibre production (1). Its high proportion has been largely replaced by synthetic fibres. However, it still holds the first position among purely natural materials.
It is obtained from cotton plants, the fruits of which contain several typically white or yellow to brownish tufts. There are several species of cotton: upland, pima, levant or tree cotton. They differ from each other, for example, in colour or fibre length. Upland cotton accounts for the largest share of the world's harvest, at around 90% (2).
What are the positives of cotton?
Cotton is a very popular textile material for many reasons. However, in order to retain its natural abilities, it must be processed in a considerate way. Cotton not destroyed by pesticides and chemical dyes is very comfortable to wear and is also suitable for sensitive skin and allergy sufferers.
It is characterized by better breathability, so the wearer does not feel like sweating in it. Cotton can perfectly absorb moisture, while remaining dry to the touch. Sweat is easily removed and the natural balance on the surface of our body is maintained. In addition, cotton is characterized by its long life. If the fibres are not damaged by chemical treatment, their characteristics of elasticity and resistance to soaking will be retained (3,4).
What are the disadvantages of cotton?
One of the disadvantages of cotton fibres is their relatively low elasticity and tendency to shrink (4). The capabilities of cotton also depend very much on the method of production. When processed using large number of chemicals, it loses its unique properties. Therefore, when choosing cotton clothing, it is important to look not only at the proportion of cotton, but also at its quality and method of processing.
However, the main disadvantage lies in the considerable complexity of cotton cultivation itself, because it needs a large amount of moisture and is sensitive to changes in weather and pests. In order to achieve a sufficiently large harvest, large number of pesticides is used in the cultivation of conventional cotton. Additional burdens in form of toxic chemicals and additional water consumption come during the processing phase. Cotton conventionally produced this way is very dangerous for the health of people and our planet. The effects of irresponsible cotton production can thus be catastrophic.
Fortunately, cotton can also be produced more considerately, that means with regards to nature and environment, our health and social conditions of farmers and workers. Wondering how and how big is the difference between conventional and sustainable way of processing cotton? Check our article Why choose organic cotton, and learn what percentage of water can be saved in responsible production, or what is its social and ethical significance.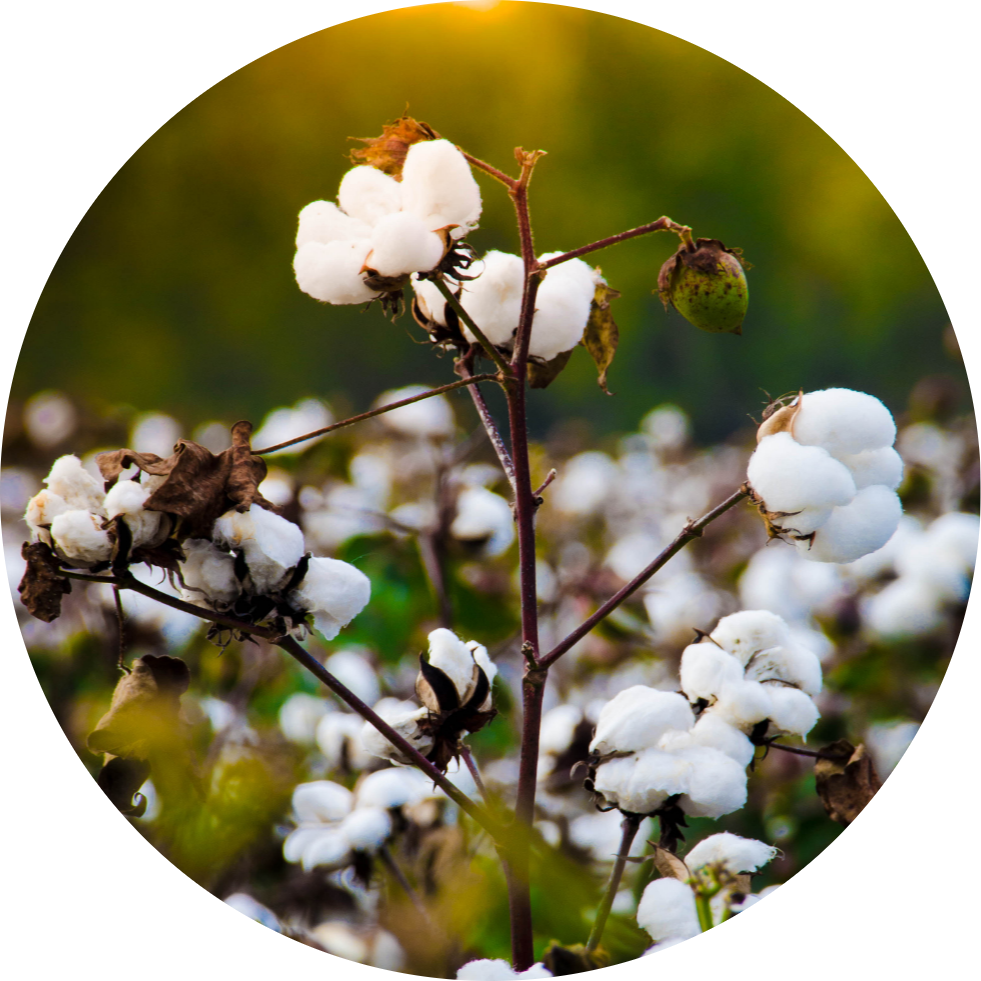 The process of manufacturing cotton textile
The individual steps in processing cotton into textile fibres are basically always the same. It is necessary to take care of the crop so that it maintains a sufficiently large and high-quality harvest. Cotton fibres are then obtained from the cotton plant, but must first be cleaned of seeds, leaves and other hard parts of the plant. This is followed by spinning of cotton, from which yarns for weaving or knitting are created. And the finished fabric is then dyed (5).
However, the difference lies in the way these steps are achieved and the methods used. As already mentioned, the production of conventionally produced cotton uses a large amount of water and toxic chemicals throughout the process. We will focus on a more environmentally friendly way of producing cotton and show what such sustainable production process looks like (6):
Growing on organic farms - Textile manufacturers carefully choose from whom they buy raw cotton. They prefer smallholder farmers who grow cotton considerately and using natural methods.
Gentle grain removal - Cotton fibres make up only about 1/3 of the whole cotton tuft. The remaining material consists of other parts of the plant, such as stems, leaves and others. The cleaning process is very gentle so that the fibres are not damaged and retain their quality. Some of the remaining parts are then further used as oil and cattle fodder.
Fibre spinning - The cleaned cotton further travels to the laundry, where the fibres are twisted and spun into yarn. For example, the Stanley/Stella brand uses only ring-spun combed yarn, which is stronger, finer and smoother than carded yarn.
Fabric knitting - This is followed by knitting from yarns, where a fabric is created by interlocking series of loops of one or more yarns.
Dyeing and washing - The last step in finishing the fabric is dyeing and washing. Ecological and more environmentally friendly methods are also applied in this phase. However, textile do not always have to be dyed. For example, the uncoloured Natural Raw fabric from Stanley/Stella is an even more sustainable option (7).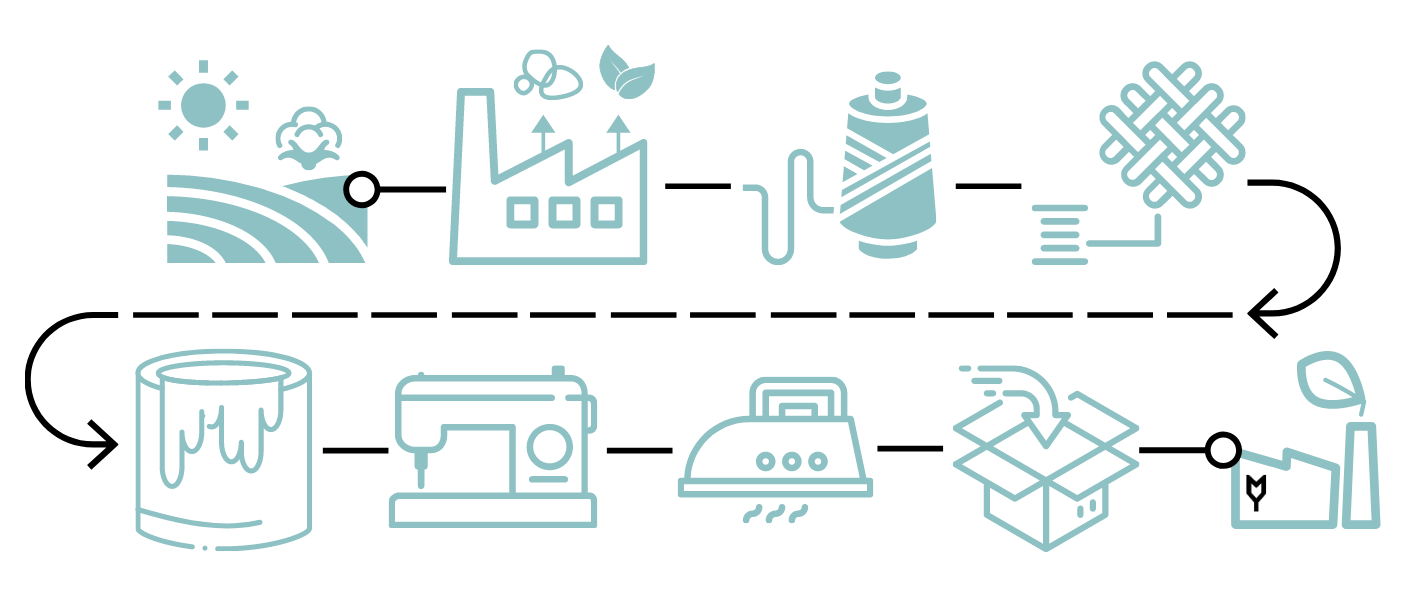 The finished fabric is ready for cutting and sewing a specific textile product. It is then ironed and wrapped. The clothes then travel from production onwards to, for example, us at MERCHYOU for further processing - for printing or embroidery.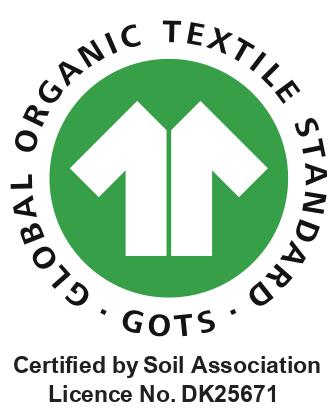 By choosing GOTS certified cotton textile, you help to create a healthy working environment and fair working conditions for farmers and workers. At the same time, you choose a much healthier option for the health and the surrounding nature.
Read about more reasons for choosing organic cotton in our older blog post.
Suitable printing techniques
When choosing a printing technique, it is very important to consider what material the textile is made of. The following can be used for cotton products:
Screen Printing - High quality, speed and accuracy.
Digital printing - Handles colour transitions better and is softer to the touch. We recommend using digital printing only in the case of 100% cotton textiles.
Certified cotton textile in our offer
In our catalogue you can find GOTS certified textile from brands such as Stanley/Stella, Malfini or Earth Positive. We also offer organic cotton products from the Neutral brand.
OUR TIPS
GOTS certified 100% organic cotton (GOTS, Oeko-Tex, Fair Wear)
*Products are also available in other colours
GOTS certified 100% organic cotton
*Products are also available in other colours
GOTS certified 100% organic cotton (GOTS, Fair Wear)
*Products are also available in other colours
100% organic cotton (Oeko-Tex, Fairtrade)
*Products are also available in other colours
Cotton is an extremely valuable material for the fashion industry. Although it has been overtaken by synthetic materials in terms of production volume, it still ranks first in the context of importance in the production of clothing due to its unique characteristics. Therefore, to really serve us as it should, the way of how it is grown and processed is essential. Fortunately, there are considerate methods and procedures that protect nature and our health. We are pleased to be able to offer you just such products that are not only high quality, but above all responsibly manufactured.
We will soon introduce you to another of today's important sustainable textile materials - recycled polyester.
We look forward to the next part of our series!
Links:
(1) Distribution of worldwide fibre consumption in 2019 by fibre type
(2) Types of cotton
(3) About cotton
(4) Cotton properties
(5) Cotton production
(6) Stanley/Stella – Sustainability Report 2020
(7) Natural Raw textile